Let's catch up over coffee
Last October, I received a call from Shawn Callahan, to see if we could catch up over coffee when he was next in Auckland.
Shawn and I had been colleagues at IBM and he came to New Zealand in 2003 to help with a major client engagement where we used anecdote circles (where people tell their stories about their experiences with a particular organisation or series of events) to help that client better understand the multiple perspectives their stakeholders had.
The narrative techniques were a particularly effective way to engage with a wide range of stakeholders.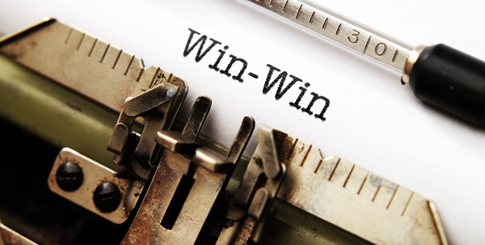 A Trans-Tasman collaboration is born
Shawn and I had remained in contact over the years after he left IBM to set up Anecdote in 2004, and so when he asked if I would like to become a Partner of Anecdote, to sell and deliver Storytelling for Leaders programmes in New Zealand, it didn't take too long for me to say "yes".
I had recently left IBM to set up my own consulting business in the areas of organisation design and change management, and I saw the SFL programme as being very complementary to what I am doing for my clients.
The projects I've done for clients in the past 18 months have been quite varied. I've helped one organisation in the Distribution sector, which is going through a massive transformation, to develop a change strategy and framework, which they are using to build capability for leaders and HR Business Partners to more effectively deliver change.
I head off to Europe on Saturday. I'll be speaking at the World Communication Forum in Davos on the 10-11 March and then heading over to Berlin to run a public Storytelling for Leaders program in Berlin. At the Berlin event we will welcoming some new partners to Anecdote from Belgium and the UK, which is exciting.
We're still keen to meet more potential partners who have a successful leadership development practice that would like to explore the possibility of becoming an Anecdote partner. Our partners are typically practitioners with deep experience working with Global 1000 corporations, great facilitators, and really want to help leaders be their very best. It's great to meet face to face, so if you would like to catch up while I'm in Europe I could meet early on Friday 13th in Hannover or Wednesday 18th in Berlin. Please send an email to people@anecdote.com.
2014, our 10th year in business, was a watershed for Anecdote. Our partner network has grown to 27 partners in 17 countries and it continues to grow. Apart from our partners' deep skills and wonderful expertise, they are a great bunch of people who are a joy to spend time with. We are looking forward to our partner conference next year. 2014 also saw our first corporate partners who have licensed our programs and are delivering them inside their organisations.
To wrap up the year we've selected the top 10 posts which give an insight into the topics that have sparked our attention and that you have found interesting in 2014.
10.  6 ways to avoid a common business storytelling blunder
The last thing you want your audience to feel is that they're simply watching a performance. What you do want them to feel is that you're sharing an experience with them, just like what happens when people catch up informally over lunch. Here are 6 ways to keep your story conversational and authentic.
9. One simple way to bring your stories to life
Often people mistakenly think oral stories are about words when in fact good oral stories are about pictures and emotions. When you hear a story and can see it happening you're transported to the place where it's taking place and you relive it with the teller. This natural and effortless collaboration between teller and listener is one of the reasons stories are so engaging.  It's all about moments.
8. The Power of Failure Stories
Your willingness to share a failure can have a powerful effect. A failure story encourages the person you are hoping to work with to share their own failures, or those sensitive things that are really happening in the organisation. It helps people to open up. After you get over the hurt of the failure, you'll find that its retelling will be extremely valuable. I recommend you have a few failure stories ready to be told.
7. How an Indian hotel chain turned their customer satisfaction around using stories
A participant in our public Storytelling for Leaders program was  Balaji V., human resources director of Mahindra Holidays and Resorts India. Right after the training he started a major narrative project as part of their brand relaunch that was designed to find the stories of success and amplify them throughout Mahindra Resorts. He put together this case study of what they did and the great results they achieved.
Read the rest of this entry »
Influence without relying on authority.
Build fast rapport.
Change minds and inspire action.
Anecdote's Storytelling for Leaders program will teach you the techniques you need to better influence, engage and inspire others – just as hundreds of leaders already have, from Melbourne to New York, London to Singapore.
This is the last business storytelling training session in Australia for 2014. 11th December. You can get your tickets here.
Organisations are changing quickly. Structures are flatter and reporting lines more complex. Staff and customers are spread around the world. And everyone is deafened by the 'noise' of information inundation. Yet the modern leader still needs to be able to influence and persuade in this constantly fluid environment.
The sharing of stories orally is a powerful way of cutting through. When we tell stories, people 'get' what we are saying – and they remember it. This is the case whether we are communicating informally (which is what we do most of the time) or in a more formal environment such as a presentation.
"Other presentations were dry and heavy, but the Yammer presentations really stood out because we were telling stories versus merely sharing data." A Storytelling for Leaders participant describes the way storytelling changed her presentations. Click here to hear more.
More than just storytelling
Storytelling for Leaders will teach you a systematic method for becoming a better, more confident storyteller. However, the program goes further. You will also learn how to use the magic of stories to get more from others:
Story-triggering involves a leader doing something remarkable enough that it inspires people in the organisation to recount what happened. We show you how you can do this successfully.
Story-listening is the art of getting others to share stories. You'll learn how to elicit stories from others, building stronger connections and gaining a better understanding of what's really happening.
More than a workshop
Read the rest of this entry »
Early this year we appointed two business partners in Mexico, one in Mexico City (Jesus Trejo) and the other in Monterrey (Astrolab). Of course this meant translating our Storytelling for Leaders materials into Spanish. We engaged a professional translator in Mexico City who did a wonderful job understanding the nuances of our work and making the most appropriate translation. Our business partners are very pleased with the result. So now there is a Spanish Storytelling for Leaders.
First Spanish Storytelling for Leaders Project
Our first major project using the newly translated materials was with one of Mexico's most prestigious department stores. We worked over two days to help their senior leaders build their storytelling skills and also showing them how storytelling could be employed by front line staff to provide even higher customer service.
It was a pity I couldn't deliver the program in Spanish myself but luckily I had Jesus there to translate. I did notice, however, that even when you don't speak the language you can really tell when a story is being shared. The tone of their voice changes and what was monotone switches to a beautiful multi tone framed by an expressive face, glistening eyes and complementary gestures.
Read the rest of this entry »
Last weekend I was in Copenhagen as part of the Persona Global annual conference. Much of the weekend was spent certifying six new Partners to deliver our Storytelling for Leaders™ program. We managed to work our way through a packed schedule and had a great time doing so.
The expanding Storytelling for Leaders partner network
With such an international audience, it wasn't surprising that one of the first questions asked was about the cross-cultural applicability of the program. I asked the group to re-visit the question at the end of the day when they had experienced the content. Everyone agreed that some minor tweaking is needed to ensure the content is relevant for different countries (videos from the country in question, changing problematic words – for example, 'gist' is not clearly understood in different languages and even some English-speaking countries struggle with it). But, the overwhelming agreement was that storytelling (and story-listening) operate at a basic human level and as such, the content tends to transcend cultures.
The program came at a good time for Janusz – he spoke at the TED Poland event a few days after the workshop. He has a great story about sailing to Australia in a tall ship as part of our Bicentennial celebrations.
If you are interested in experiencing the Storytelling for Leaders program in any of these countries then drop me a line and I'll connect you to them.
10 years ago on this date I wandered into the registration office to register Anecdote as a new business with the view that we could use story techniques to bring more humanity back into the workplace. My long-term business partner and dear friend Mark joined soon after and in those early days our customers were a little bemused by the idea that stories could make a difference. How have things changed.
We were probably a little before our time but we persisted and as we narrowed our focus to helping leaders influence and inspire with stories as well as helping companies tell the story of their strategy, we found ourselves getting busier and busier.
Today our programs are delivered around the World by Anecdote and a network of business partners who are also passionate about the role stories can have in business.
A big thanks to Mark for being a great business partner and friend. Anecdote would not exist without you.
Thanks to the Anecdote team. You rock Helen, Kerenza, Ron, Paul and Jason.
And thanks to all our great supporters, clients, families and friends.
And finally a big hug and kiss to Sheenagh who has been a solid supporter and cheerleader despite the ups and downs of running a business. Thanks honey.
We are looking forward to the next 10 years.
On 19 and 20 June I was in London to run the accreditation program for a few of our new Storytelling for Leaders (TM) Partners. We had a fun time together and its always a pleasure working with great people. Working with experienced and professional facilitators and storytellers meant I learned lots as well. Many thanks to Stuart for helping me focus the Connection Stories activity on 'moments'.
If you are in the UK or Europe (apparently there is a difference) and want to learn more about Storytelling for Leaders, give one of them a call.
New Storytelling for Leaders partners
Back Row L-R: Pete Fox (who has been an Anecdote Partner in the UK for many years), Paul Joosten (based in The Netherlands), Ronald van Domberg (also based in The Netherlands)
Front Row L-R: Hannah Havas (based in France), yours truly, Stuart Reid (based in the UK).
In 2001, Annette Simmons published her book The Story Factor. I read it cover to cover and as I write this my dog-eared, tagged and heavily annotated copy sits in front of me. The book has been widely acclaimed as one of the most influential business storytelling books written. Her other titles include Whoever Tells the Best Story Wins published in 2007. We have kept in contact with Annette over the years and greatly admire the practical focus of her work.
When we heard that the Australian Storytelling Guild NSW was hosting Annette in Sydney on 5 June 2014, we jumped at the chance to be the Gold Sponsor for the event. It's a great opportunity for business leaders to spend a day with one of the world's leading story practitioners. The workshop, titled Whoever Tells the Best Story Wins is aimed at leaders at all levels of an organisation, influencers and thought leaders, change agents, entrepreneurs, and anyone involved in setting strategic direction for themselves or their organisations. Annette's workshops get rave reviews.
The early bird offer for the workshop is open until 5pm on 30 April. It's a great opportunity to learn from a world leader. Tickets and additional information is available here.
Shawn and I look forward to seeing you there.
Late last year we helped Yammer's Customer Success Managers build their story capability across their global team using our Storytelling for Leaders Program. They learned how to tell, elicit and trigger stories. And like many companies we work with our story-listening techniques are a real eye-opener for them.
Today we're delighted we can share this case study describing what we did and the impact it had for Yammer.
To download the case study just click here.